Women's Leadership Committee
Are you a woman involved in farming or an agricultural business and interested in educating people about agriculture?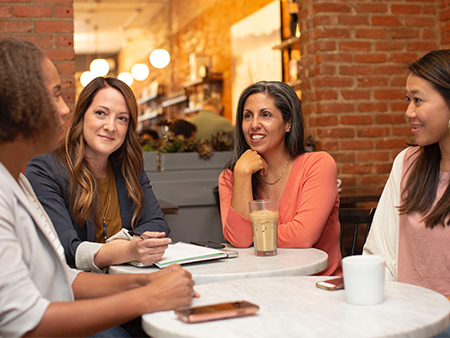 CFBA's Women's Leadership Committee is an active and engaged group of women who focus on agricultural education. WLC initiates projects beyond typical county farm bureau activities with a special emphasis on education.
WLC takes on projects beyond traditional county Farm Bureau activites, expanding the role of Farm Bureau in local communities, especially focused on agricultural education.
Read Across Connecticut
Working with the Connecticut Agricultural Education Foundation (CTAEF), WLC coordinates Connecticut's Ag in the Classroom Program. This year WLC coordinated volunteers to read in more than 150 classrooms for a special Read Across Connecticut campaign.
Farm Tours
The WLC has hosted statewide Local Food/Local Farm tours to give consumers a behind-the-scene look at the challenges facing family-farming businesses. This was tour was funded by the Connecticut Humanities Council.
Leadership Development
The WLC offers numerous opportunities to develop leadership skills through a highly-regarded annual national women's leadership conference and other regional and state-wide training programs.
Barn Bookcases
WLC initiated a special program to placed barn-shaped bookcases loaded with agriculture books in school libraries across the state. Since it's inception over 18 bookcases have been place in school libraries throughout the state. The cost of the bookshelves and the books themselves was underwritten by local farms, county Farm Bureaus and the Connecticut Ag Education Foundation.
Legislative Program
Get to know your local legislators and help them understand the challenges that modern farm businesses face. WLC Committee members initiate letter-writing and phone campaigns, sponsor county meet-the-candidate meetings and make personal contacts with legislators on farm issues. The Women's Committee table at Ag Day at the Capitol is a highlight featuring locally-grown foods.
Women's Leadership State Committee Members
Chair – Debbi Tanner
Fairfield County – Carolyn Sepe
Hartford County – Emily Tuller
Litchfield County – Diane Tanner
Middlesex County – Donna Zurstadt
New Haven County – Mary Ellen Wettemann
New London County – Wayne Budney
Tolland County – Melissa Higgins
Windham County – Courtnay Lawrence
Northeast Regional Representative to American Farm Bureau WLC – Debbi Tanner
For additional information regarding the Women's Committee please contact Debbi Tanner at 860-779-0837 or