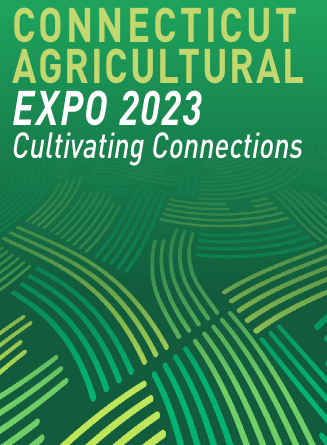 Register today!
Connecticut Agricultural Expo 2023 will be held on Wednesday, November 8th from 8:00 am – 2:00 pm at Aquaturf, 556 Mulberry Street, Southington, CT.
To register click here. Questions? Please call 860-768-1100 or email Traceym@cfba.org.
Event Partners:
Connecticut Farm Bureau
Connecticut Department of Agriculture
Farm Credit East, ACA
UConn Extension
Registration includes:
Expo showcasing the latest in ag innovation, farm equipment, tractors, farm implements, seed and crop protection products, farm supplies and services.
State-wide Networking
Buffet Lunch
Connecticut Beer and Wine Samples
Taste of Connecticut
Pesticide CEU Credits
$60 for CFBA Limited and Standard Members
$75 for Non-members.
Join or renew CT Farm Bureau membership to receive discount member rate.
To join or renew membership click here or call 860-768-1100
---
2023 Ag Expo Schedule
For Exhibitor Information click here.
8:00AM – Registration
8:00AM – 2:00PM – Trade Show
8:00AM – 12:00PM – Taste of Connecticut
8:30AM – CEU Program – Soil Health on Vegetable Farms
9:45AM – CEU Program – Climate Instability and Pests Pressures on Commercial Fruit Growers
11:00AM – CEU Program – Pesticide Resistance Management
12:00PM – 1:30PM – Buffet Lunch/Connecticut Wine & Beer Samples
2:00PM – Expo Ends
2023 Ag Expo Pesticide CEU Classes
8:30AM – Soil Health and Biodiversity Techniques on Vegetable Farms
Presenter: Shuresh Ghimire, UConn Extension Vegetable Specialist
Restoring soil health, promoting biodiversity, and enhancing sustainability through practices like cover cropping, crop rotation, and minimizing chemical inputs. The presentation will review regenerative agriculture, its goal and practices, and specific regenerative practices suitable for vegetable farming.
9:45AM – Interplay of Climate Instability and Pest Pressures in the Commercial Fruit Industry – Observations from the 2023 Growing Season
Presenter:  Evan Lentz, UConn Extension Fruit Specialist
Observations from this growing season, with special attention given to extreme weather events and the influence they have on the abundance and severity of several important fruit pests.
11:00AM – Pesticide Resistance Management
Presenter: Srikanth Kodati, UConn Extension Pesticide Safety Specialist
The factors influencing the development of pesticide resistance and methods for the management of pesticide resistance.
---
Exhibitor and Sponsorship Information
Exhibitor information 2023 Exhibitor Options 9.15.2023
Exhibitor and sponsorship form Ag Expo 2023 Exhibitor & Sponsor Form.